The latest knowledge about elephants is important for scientists, conservationists and the interested public. Save the Elephants gathers all articles, stories and publications from the around the world and distributes them to subscribers as well as storing them in a free library on our website, creating a substantial resource for elephant enthusiasts all over the world. 
Please note that this service reflects stories published on established news outlets, but Save the Elephants cannot guarantee the accuracy of any news story. In addition, we do not endorse any of the views expressed therein. We simply try to represent fairly what is in the media on elephants. If a reader finds inaccuracies in an article, we are happy to circulate corrections, if these can be verified.
Over the last years our world-leading conservation efforts have been possible thanks to the dedication and generosity of loyal supporters. To join them you can donate in a number of ways:
Elephants are facing intense threats to their survival in many parts of Africa. The Elephant Crisis Fund provides rapid, catalytic support for the most effective projects designed to stop the killing of elephants for ivory, reduce conflict between humans and elephants, and safeguard important elephant landscapes.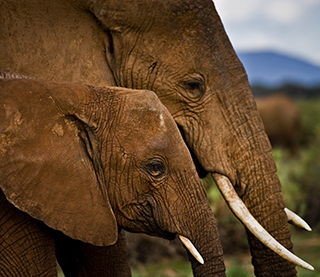 Save the Elephants is funded almost entirely by private donations. It is only through the generous support of donors that we are able to continue our important elephant conservation work. We rely entirely on funds, grants and donations from around the world, so thank you for helping us to secure a future for these fascinating creatures.