Story Spheres allow us to tell stories about the elephants and people of Samburu through panoramic photographs. In 2015 Google worked with Save the Elephants to make Samburu National Reserve the first place in Kenya to be open to virtual visitors via Street View. The Story Spheres here allow you to meet some of the elephant families we know so well, understand the challenges of life as an orphan and learn about our hi-tech tracking of elephants.
The Spices Family Resting in the Heat of the Day
Elephants rely on the shade of trees during the hottest part of the day when they will often be found resting and trying to keep cool. Here the Spices family are making use of a single Acacia tree, resting together in its shade before heading down to the river to drink. Thanks to their enormous size (and resulting low ratio of surface area to volume) elephants get hot. The ears of African elephants are large and full of blood vessels; when flapped they act as cooling devices.
Freud, a Bull Displaced from his Family
Freud is a bull elephant in Samburu who is nearing his twenties. He was born into the Hardwoods family, but as he's grown older he has spent less and less time with them, although he still ranges across the same area. Researchers call bulls like Freud 'dispersed' bulls. It will be many years before Freud becomes reproductively competitive. Look around and you'll see he is feeding alongside a young female from another family whom he has known since he was a young calf.
The Perils of Elephant Research
Although the elephants of Samburu are usually tame and trusting, they are capable of strong emotions. In May of 2002 two Save the Elephants researchers, George Wittemyer and Daniel Lentipo, were watching a fight between two musth bulls, Abe Lincoln and Rommel. When Rommel lost the fight he turned and took his anger out on the researchers, attacking and flipping their vehicle. It was only when Abe re-engaged Rommel in another fight that George and Daniel were able to escape and run to safety.
Upendo ("Love"), From the Swahilis Family Goes it Alone
This young bull, called Upendo from the Swahilis family, has just started to disperse from his family group. Save the Elephants researchers have not seen him venture too far from other families, but here he spent the afternoon alone before rejoining with his female cousins later on. The tendency of male elephants to be alone makes them easier targets for poachers than females.
Meet the Expanding Hardwoods Family
The Hardwoods family once travelled the Samburu area as a single group. As more and more females reached breeding age, the Hardwoods split into two core groups. They still move around in synchrony, but these days they often keep their distance in order to minimise competition for resources. In this panorama both of the greater Hardwoods groups are visible, one in the foreground and one in the background.
Safe Passage for Elephants
Elephants need big landscapes, but these are becoming fragmented by infrastructure development. Here is the highway underpass that makes up part of the Mount Kenya elephant corridor, allowing elephants to cross from the Ngare Ndare Forest to Mount Kenya. The underpass was officially opened on Jan 1 2011. Within 36 hours a bull elephant named Tony walked through the underpass into the elephant corridor where we were able to fit him with a GPS tracking collar.
Walking with Warriors, the Key to Elephant Survival
The Samburu people and elephants have long shared a special relationship. Various similarities between elephants and people have led to the belief that elephants and people were once from the same tribe. However, disrespect by people to elephants in the past led to the conflict that sometimes exists today between the species. There is a clan in the Samburu culture that is believed to still maintain close relations with elephants. Members of that clan can call upon elephants for help when in need.
The Story of Habiba, Orphaned in the Wild
Habiba is young to lead a family, but after the death of the last remaining mature female her family she had no choice. Little is known about the strategies adopted by wild orphan elephants, and in 2013 Habiba was fitted with a GPS tracking collar. Her collar will help answer lots of questions: What core areas and corridors does she rely upon? How much space does she need? Will she avoid areas where she experienced the poaching of loved ones? Additionally, her collar will alert Save the Elephants if Habiba runs into trouble.
Eyes in the Sky for Elephants
Save the Elephants' Cessna 185 airplane is used for many research activities. It's an essential tool for finding elephants and providing ground teams with a bird's eye view during complex collaring operations that can sometimes involve several vehicles and aircraft. We also conduct elephant aerial census work in collaboration with the Kenya Wildlife Service to further our understanding of elephant population trends. Northern Kenya is also a big place and we often need to use the plane just to get around especially during the rainy season when roads become impassable.
The Benefits of Family Life
Save the Elephants researchers name each elephant with a coding system that reflects the year they were born and their mother's identification. When females become mothers they also receive a name that corresponds to their family's theme. Hazel is from the Hardwoods family and is the daughter of Ebony. Older matriarchs are thought to have greater knowledge of the landscape than their younger counterparts, and living in multi-generational groups allows young females to learn from the experience of their elders.
Over the last years our world-leading conservation efforts have been possible thanks to the dedication and generosity of loyal supporters. To join them you can donate in a number of ways:
Elephants are facing intense threats to their survival in many parts of Africa. The Elephant Crisis Fund provides rapid, catalytic support for the most effective projects designed to stop the killing of elephants for ivory, reduce conflict between humans and elephants, and safeguard important elephant landscapes.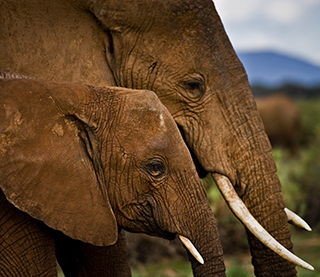 Save the Elephants is funded almost entirely by private donations. It is only through the generous support of donors that we are able to continue our important elephant conservation work. We rely entirely on funds, grants and donations from around the world, so thank you for helping us to secure a future for these fascinating creatures.