TRIBUTE TO TIM
"IN BOTH LIFE AND DEATH,
BIG BULLS LIKE TIM AND MATT
NOT ONLY FIRE OUR IMAGINATIONS
BUT THEY ARE ALSO STARK REMINDERS
THAT THE LAST GIANTS ON EARTH
ARE QUICKLY DISAPPEARING
AND WE MUST DO ALL WE CAN
TO PROTECT THEIR FUTURE GENERATIONS"

- IAIN DOUGLAS-HAMILTON
Our mission is to secure a future for elephants and to sustain the beauty and ecological integrity of the places they live; to promote man's delight in their intelligence and the diversity of their world, and to develop a tolerant relationship between the two species.
Elephants are Africa's gardeners and landscape engineers, planting seeds and creating habitat wherever they roam.
Without urgent action to save their species, elephants could disappear from the wild within a single generation.
Though primarily based in Samburu National Reserve, Kenya, we have projects across Africa focussing on radio-tracking elephants and community conservation carrying out rigorous studies of elephants, including elephant collaring and more recently, sophisticated elephant tracking techniques. The mission of STE is to secure a future for elephants in harmony with people. Our rationale is to plan conservation of elephants and their environment through research on movements, ecology, and behaviour, and through community programmes, and to look at conservation from an elephant's point of view which we do through our projects.
Over the last years our world-leading conservation efforts have been possible thanks to the dedication and generosity of loyal supporters. To join them you can donate in a number of ways:
Elephants are fast disappearing from the wild. Without urgent, international action they could be gone within a generation. The Elephant Crisis Fund provides rapid, catalytic support for the most effective projects designed to stop the killing, thwart traffickers and end the demand for ivory. 100% of all donations reach the field.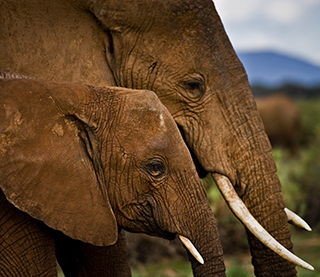 Save the Elephants is funded almost entirely by private donations. It is only through the generous support of donors that we are able to continue our important elephant conservation work. We rely entirely on funds, grants and donations from around the world, so thank you for helping us to secure a future for these fascinating creatures.
We are so proud of the matriarchs who lead our Samburu elephant herds in Northern Kenya.  With their knowledge, experience and wisdom, their leadership is crucial to the survival of the entire group.  In honour of these wonderful ...
This message is only visible to admins.

Problem displaying Facebook posts.
Click to show error
Error:
An access token is required to request this resource.
Type:
OAuthException
Solution:
See here
for how to solve this error