Save the Elephants is proud of the wide diversity of talents that have come together to fight for a future for elephants under our banner. From the founding of the organisation more than twenty years ago it has always combined world-leading scientific minds with the unrivalled experience and deep, intuitive knowledge of African cultures that have long co-existed with elephants. STE's founder, Iain Douglas-Hamilton, conducted the first behavioural studies of wild African elephants. Since setting up a long term study of the elephants of Samburu in northern Kenya, he has nurtured a new generation of researchers and conservationists from the local area and around the world, all of whom share the same passion and commitment to making sure that elephants continue to grace African landscapes.
DR. GEORGE WITTEMYER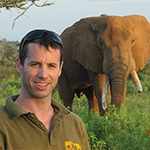 Chairman – STE Scientific Board
Dr. Wittemyer serves as the Chairman of the Scientific Board of Save the Elephants and is an assistant professor in the Dept. of Fish, Wildlife, and Conservation Biology at Colorado State University. His research focuses on biodiversity conservation issues, with an emphasis on determining how landscapes, humans, and climate impact demography, distribution and movement of at risk wildlife populations. As a Fulbright Fellow in 1997, he founded the long term Samburu elephant monitoring project, on which he has been working ever since. He completed his PhD in the Department of Environmental Science, Policy, and Management at the University of California, Berkeley in 2005 on the Socio-Ecology of the Samburu elephants. He joined the IUCN's African Elephants Specialist Group in 2008 and currently serves as a technical advisor on elephants to the Kenya Wildlife Service. He has published over 40 peer-reviewed manuscripts on elephants and is currently working directly on elephant conservation projects in Kenya, Central African Republic, and Namibia as well as collaborating on elephant conservation projects across Africa.
SABA DOUGLAS-HAMILTON
Kenyan Wildlife Conservationist
Saba Douglas-Hamilton is a conservationist, filmmaker and TV host.  She served as a Trustee of Save the Elephants (STE) for a decade and is now their lead ambassador. With a first class degree in Social Anthropology from the University of St. Andrews, Scotland, she first worked with the Save the Rhino Trust in Namibia before helping establish STE's research HQ in northern Kenya as the organisation's first Head of Operations. As a wildlife filmmaker with the BBC Saba hosted nine award-winning TV series and twenty-four documentaries. As a communicator on conservation, she is acclaimed for her ability to inspire audiences around the world to engage with the wild world. She also runs Elephant Watch Camp, an intimate eco-camp and life-long partner of Save the Elephants.
PROF. FRITZ VOLLRATH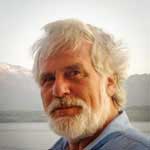 Chairman
Prof. Fritz Vollrath, the Chairman of Save the Elephants, studied in Germany and obtained his PhD (with a thesis on spider behaviour) in 1977 from Freiburg University. He completed research fellowships and fieldwork with the Max Plank Institute in Seewiesen and the Smithsonian Tropical Research Institute in Panama. After 9 years in Oxford as Royal Society Post-doctorate Research Fellow and University Research Associate, 5 years in Switzerland (Basel) as Associate Professor and 8 years in Denmark (Aarhus) as Professor of Zoology, he is now back at the University of Oxford as Visiting Research Professor in the Department of Zoology and Senior Research Associate of Balliol College. Prof Vollrath's research focuses on the evolution of spider web-building behaviour and on the extraordinary properties of the silk used to build the webs. His studies on the spider's movements during web construction have led to analysis tools and novel insights into animal decision making. STE employs these findings at the other end of the scale of animal sizes while investigating elephant movements and decisions. Prof Vollrath has been an STE Trustee since the year 2002. In 2003 he became the new STE Chairman when Dr. Iain Douglas-Hamilton became President and CEO of the organisation. Together they published the first paper in 2002 on the use of African honeybees to prevent elephants from foraging on acacia trees. Prof. Fritz Vollrath, Department of Zoology, South Parks Road, Oxford OX1 3PS, UK. Office: +44-1865-271234, Fax: +44-1865-358221
MARLENE MCCAY
Trustee
Marlene McCay joined the Board of Trustees in the year 2001 and has continued to be one of Save the Elephants major supporters. In June 2003, Marlene McCay began a project in collaboration with STE and Kruger National Park to examine the population dynamics and movement of elephants within the Associated Private Nature Reserves (APNR) and the adjacent Kruger National Park (KNP). Together with STE and Timbavati Private Nature Reserve, Marlene has pioneered the Green Hunting of elephants as a complete alternative to lethal hunting.
AMBROSE CAREY
Trustee
Ambrose Carey joined Save the Elephants' Board of Trustees in 2014.  Ambrose first came to Africa at the age of 19 when he assisted Iain Douglas-Hamilton in a campaign to save Uganda's hard pressed elephants, at a time when the country was in the midst of a civil war.  In the late 1980s, Ambrose was part of an international network, set up by Douglas-Hamilton, to investigate and penetrate the inner workings of the ivory trade ultimately leading to the successful 1989 CITES ban.  In 2002, Ambrose co-founded Alaco Ltd  – a highly successful global business intelligence firm (http://www.alaco.com/).  He has a degree from the University of East Anglia.  He has remained dedicated to the conservation of wildlife and brings experience and a unique set of skills to STE.
MICHAEL A DAVITZ
 Trustee
Michael A. Davitz joined our board of trustees in June 2020. A physician-scientist and attorney, Michael has had a long association with Save the Elephants starting in the 1970s when he interned with our founder, Iain Douglas-Hamilton. Michael is a registered U.S. patent attorney as well as a physician with over 15 years' experience in biomedical research, and more than 20 years' experience providing strategic counseling to clients around the world in all aspects of intellectual property law.  Michael has published over 25 papers in peer-reviewed scientific journals such as Science and Nature and is a highly sought-after public speaker on patent-related issues in the U.S.
PATRICIA AWORI
 Trustee
Patricia joined STE's Board of Trustees in 2022. Born and raised in Nairobi, Kenya, she holds a B.A. degree in International Relations, with a minor in the behavioral sciences. Her areas of expertise span history, literature, community wildlife conservation programs, international policy development, and wildlife conservation. Pat is Director of the Pan-African Wildlife Conservation Network and specializes in elephant behaviour and advocacy for wild species conservation. In her Directorship and advocacy role, Pat is a regular and vital attendee at international conferences such as CITES and the Convention on Biological Diversity. She also speaks at numerous conservation and environmental forums, including the Houston Museum of Natural Sciences.
Pat is a member of the East African Wildlife Society and has also helped establish influential advocacy groups such as the African Elephant Coalition and the Kenya Elephant Forum. Her advocacy efforts have contributed to various Kenyan legislations such as the latest wildlife bill. Pat's passion for folklore, ancient traditions, and music means she has also dedicated a considerable amount of time to rural communities and their culture. Her passion and dedication for elephants and wildlife, and her deft communication make her a formidable elephant ally.
JULIE HULL
 Trustee
Julie Hull joined the Board of Trustees in 2022 after first being introduced to Save The Elephants in 2012. She has traveled extensively in Africa and has collaborated with wildlife conservationists to rally support for projects across the continent. Julie has a deep interest in Indigenous communities and is a longtime board member and past chair of a nonprofit devoted to empowering young Indigenous women in Guatemala. 
Julie's love of elephant behaviour and wildlife conservation inspired her to become an advocate for Save The Elephants, and she is excited to share her 35+ years of experience in board governance, fundraising, communications, and philanthropy. She takes great joy in connecting people to the culture, communities, and wildlife of Kenya, and to STE.
Julie holds a BA from Middlebury College and a certificate in professional editing from the University of California at Berkeley. She works as a freelance copyeditor and resides in Shoreline, Washington.
Elephants live big lives and no single organisation can hope to secure a future for them on its own. STE is proud to be at the heart of a growing coalition united to save elephants.
Save the Elephants relies on donations from individuals and foundations to fund its work to secure a future for elephants. Our conservation activities are built on a continued pioneering research into the ecology and behaviour of elephants and on deep, data-driven insights into the ivory trade and its impacts on elephant populations.