What would it be like to smell with your hand? Or to manipulate and interact and bring food to your mouth with your nose? Well, were elephants to ponder like humans, perhaps they would marvel at the strangeness of prehensile thumbs and extended digits. As it is, we are left to ponder what it would be like to have an elongated, modified nose capable of grasping, a nose that enables encounters with conspecifics and the earth in much the same way as our hands do. Despite similarly high levels of cognition, elephants and humans share only a very distant mammalian ancestor. It is incredible to think how we converged in our ability to grip and handle on a fine motor level, and yet evolution brought us there in such disparate ways.
The trunk contains roughly 40,000 muscles. This is especially impressive when you consider that the human body, in total, contains 639 muscles. Elephants are born with an inability to properly use their heavily muscled trunks, and must learn how to manipulate them in much the same way that we must learn to use our hands. One of my favorite things to watch is a baby elephant discovering what it can do with this crazy appendage sticking out of its face. Babies often start a trunk exploration session with it hanging limp, swinging it about in circles just above the ground. Adults sometimes move their trunks in circles to smell out food that is low to the ground, but this is a different, coordinated movement. A baby just moves its head around and around and seemingly marvels when it feels the distal parts of its trunk following through. Soon babies will learn to lift their trunks in the characteristically periscope-like shape to smell the air. They will also tap about, feeling various things in their new world, much as R36.0314, Layla's daughter of the Swahilis family, is doing below with a fallen log.
Finer motor skills, such as holding and grasping, take more practice. Crow's new 2015 baby, R29.0315 of the American Indians family, seemed especially excited when she managed to pick up a large piece of bark, carrying it around as though proud of her accomplishment. It was as though she had a "blankie," or perhaps a teddy bear.
Gripping food like grass and the leaves of bushes is a big milestone. Several weeks after it took her much concentration to merely feel a log, I witnessed Layla's baby slowly plucking leaves from a bush and bringing them to her mouth to eat. Good girl, R36.0314!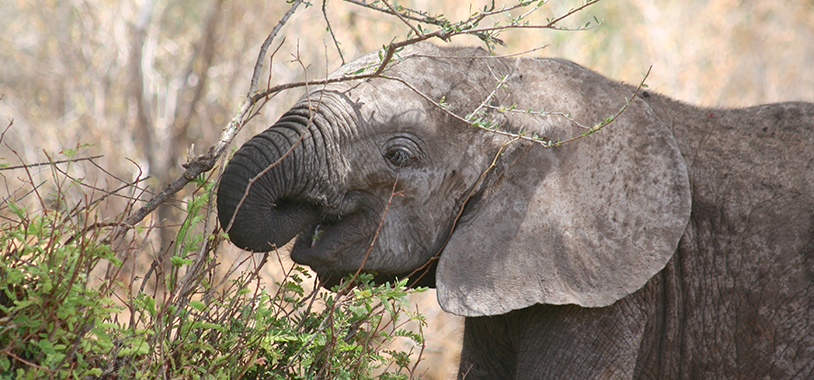 Perhaps the best illustration of the time it takes for a little one to master trunk coordination can be seen at a water hole. While older elephants expertly maneuver their trunks, pulling up water to release it into their mouths, the little guys must kneel down to drink directly from the mouth, holding their currently cumbersome trunk awkwardly out to the side.
Older juveniles, and especially adults, are very adept at using their trunks to meet various needs. The actions they use their trunks for are so familiar to things we do with our arms and hands that I forget to remember that trunks are not, in fact, just arms with modified hands. The most necessary use of the trunk is as a vehicle to ingest food and water. Elephants can use their trunks to reach to the very tops of trees and obtain the bits of plants that they find to be the tastiest. They will also wrap their trunk around and around a bunch of grass before kicking it loose with their feet and depositing it into their mouth. I have seen a single blade of grass fall onto the curved crook of an elephant's trunk when it was curled around putting food into their mouth, and watched as the elephant bent the tip around and picked up that extremely thin blade with the finger-like lips at the tip of the snout, just as we would pick something off of our upper arm with the fingers of the same-side hand. The dexterity at the end of that trunk is remarkable!
Elephants also use their trunks to itch other parts of their body, such as the inside of their ears and legs, a practice that I find makes them look (somewhat ridiculously) adorable. And how would they give themselves dust baths without being able to pick up the dust and spread it with their mobile trunks? Dust baths are important, as they assumedly help protect elephants from heat and insects.
The uses of the trunk that I most enjoy are those that involve social interactions. Whereas we shake hands to greet one another, elephants stick their trunks into each other's mouths. Young elephants will also twist their trunks around one another's while playing, and young males do the same in friendly greetings and tussles.
Mothers use their trunks to help support and reassure little ones, something like a mother human picking up a child who has fallen down while learning to walk. A mother might also use her trunk in discipline, for instance to swat away the trunk of a naughty little one who is trying to steal hard-earned water from the well she just dug, pictured further below.
The tactile uses of the trunk are virtually endless, and it is easy to forget that one of its primary uses is for smell. An elephant's sense of smell is supposedly one of the best, if not the best, in the animal kingdom. Elephants have more genes devoted to smell than have been found in any other mammal. Whereas we have about 400 genes dedicated to smell, and dogs have around 800, elephants have a whopping 2000. An appendage for feeling, grasping, holding, eating, drinking, touching, communicating, and (not least of all) smelling: who nose what evolution will come up with next?