"The future is, after all, in the hands of the youth," said Nelson Mandela of the future of conservation in his speech at the IUCN World Parks Congress (WPC) in 2003. Just over a decade later, at the sixth IUCN World Parks Congress 2014 in Sydney Australia, this was a message that kept resonating through the various presentations.
The more one thinks about it, the more Mandela's assessment of the future of conservation blended with, and was alive to, the theme of the 2014 WPC dubbed "parks, people, planet; inspiring solutions". Indeed, for this theme to be realised alongside the promise of Sydney, the youth and the younger generation must be involved more actively. The same sentiments were echoed by the President of Gabon and Patron of the IUCN World Parks Congress 2014 H.E. Ali Bongo Ondimba at the Congress' opening ceremony. Mr Luvuyo Mandela also emphasised the need for active youth involvement in conservation when he paid tribute to his great grandfather Nelson Mandela.
At the Congress it was crystal clear that rebalancing the relationship between people and nature is essential, and that ecosystems and their variety of life fully support human existence, their cultures, spiritual identity, economies and well-being. Over 6,000 delegates from over 170 countries at the event therefore came up with The Promise of Sydney in Australia, the land where traditional owners (past and present), are respectfully acknowledged prior to any formal speech. The Promise of Sydney contains unique opportunities for better protected areas today and into a decade ahead before the next World Parks Congress. These include:
i) To INVIGORATE efforts to ensure that protected areas do not regress but rather progress. Scale up protection in landscapes, wetlands and seascapes to represent all sites essential for the conservation of nature, especially in the oceans. Enhance diversity, quality and vitality in governance and management, including the appropriate recognition and support of areas conserved by Indigenous Peoples, local communities, and private entities.
ii) To INSPIRE all people, across generations, geography and cultures to experience the wonder of nature through protected areas, to engage their hearts and minds and engender a life-long association for physical, psychological, ecological, and spiritual well-being.
iii) To INVEST in nature's solutions, supported by public policy, incentives, tools and safeguards that help to halt biodiversity loss, mitigate and respond to climate change, reduce the risk and impact of disasters,  improve food and water security, and promote human health and dignity.
Read more at http://worldparkscongress.org/about/promise_of_sydney.html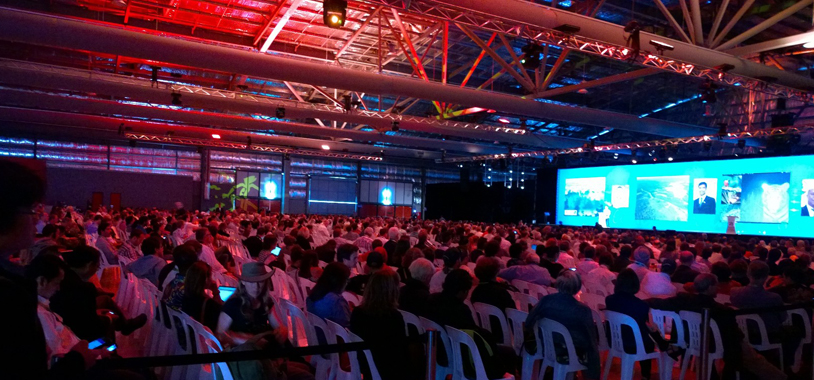 Some key promises were also made by countries including Australia, Bangladesh, Brazil, China, French Polynesia, Gabon, Japan, The Republic of Kiribati jointly with United States of America, Madagascar, Panama, Québec in Canada, Russia and South Africa, and organizations including the U.S. National Park Service, The Global Environment Facility, Elion Foundation and The United Nations Convention to Combat Desertification (UNCCD) and the United Nations Development Programme. For details of their promises read http://worldparkscongress.org/drupal/node/225
Individuals were also not left behind with personal promises as exemplified below.
Save The Elephants (STE) attended several sessions including a session on Elephant Protection Initiative (EPI), a global initiative led by Botswana, Chad, Ethiopia, Gabon and Tanzania in partnership with other elephant range states, partner states, NGOs, IGO's, private citizens. STE is a supporter of this initiative that aims to i) provide both immediate and longer-term funding to address the Elephant Crisis through full and timely implementation of the African Elephant Action Plan; ii) shut domestic ivory markets in those participating states still operating a domestic market; and iii) observe a moratorium on any consideration of future international trade for a minimum of 10 years and thereafter until African elephant populations are no longer threatened; and agree to put all stockpiles beyond economic use.
During this EPI session, the World Bank expressed their willingness to support the initiative and outlined the procedures required to attract their financial support. Emphasis was given on projects that link activities of EPI to poverty alleviation, food security, national development, or national security. Involving and working closely with the ministry of Agriculture on Human Elephant Co-Existence was emphasised too.
Save the Elephants was given an opportunity by the SBS radio in Australia to speak about the elephant and rhino poaching crisis and the solutions being put in place. For the full interview – on Australia's Swahili Radio Station – follow this link: http://www.sbs.com.au/yourlanguage/swahili/highlight/page/id/375663/t/Dr-Benson-Okita-Ouma-Save-the-Elephants/in/english.
more photos from the Congress: https://www.facebook.com/WorldParksCongressSydney2014/photos_stream?tab=photos_albums