Elephant Communication: The Power of Rumbles
Over millions of years of evolution, African savannah elephants have developed complex communication capabilities, producing vocalizations with low fundamental frequencies that can travel over long distances. Recent studies have shown how elephants send alarm rumbles to each other in response to swarming African honey-bees.
This groundbreaking discovery is helping to protect farms from crop-raiding elephants. New studies by Save the Elephants' researcher Dr Lucy King in collaboration with Dr Joseph Soltis at Disney's Animal Kingdom are showing their response to human voices, and language.
Excerpt from Abstract (King et al 2010): The sound of disturbed African honeybees Apis meliffera scutellata causes African elephants Loxodonta africana to retreat and produce warning vocalizations that lead other elephants to join the flight. In our first experiment, audio playbacks of bee sounds induced elephants to retreat and elicited more head-shaking and dusting, reactive behaviors that may prevent bee stings, compared to white noise control playbacks.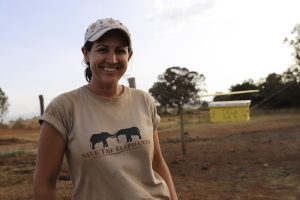 Most importantly, elephants produced distinctive ''rumble'' vocalizations in response to bee sounds. These rumbles exhibited an upward shift in the second formant location, which implies active vocal tract modulation, compared to rumbles made in response to white noise playbacks. In a second experiment, audio playbacks of these rumbles produced in response to bees elicited increased headshaking, and further and faster retreat behavior in other elephants, compared to control rumble playbacks with lower second formant frequencies. These responses to the bee rumble stimuli occurred in the absence of any bees or bee sounds.
Read more on the Elephants and Bees Project